About Us
Cycles R Us specializes in New, Used, and Aftermarket Motorcycle, Dirt Bike, and ATV parts & accessories. We have been supplying quality used parts since 1996.

We offer a 100% satisfaction guarantee on all of our New & used Motorcycle & atv parts purchases.

Get top quality, correct new & used motorcycle & atv parts at competitive pricing the first time or your money back!"
Our parts yard of over 3000 used motocycles ,ATV's, watercrafts & sleds and our new retail store located only 2 miles apart from each other.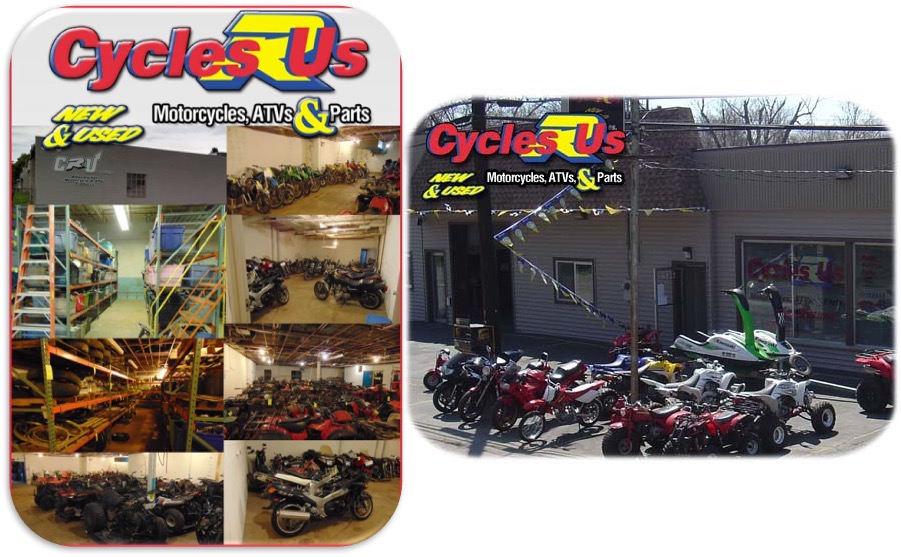 Cycles R Us specializes in used Motorcycle, Dirt Bike and ATV parts. If we don't have your parts in stock we will locate them on our national parts locator network of over 200 salvage yards.
We pay cash for junk, burned, wrecked, and abandoned motorcycles.
We have every aftermarket (cost cutting) supplier under the sun available to us from oilfilters to turbo kits.
We carry a large line of rebuilt electrical components including starter motors to charging system components. That all come with a six month warranty all at a fraction of OEM cost.
We also offer OEM replacement parts at a discount including Honda, Kawasaki, Yamaha,Suzuki, Polaris.
We are an authorized stocking distributor of Pro Armor withproducts ranging from bumpers, grab parts & nerf bars to protection under plates for ATV's and UTV's. We have an "In House" Gasket cutting machine with ann inventory of about any paper gasket you could ever want, excluding head gaskets. Just ask!
We sell used motorcycles & ATV's for all ages and sizes.
We offer a consignment program to sell your motorcycle or ATV.
We have a full service shop that offers cylinder boring, sleeving, & porting. We also offer steel and aluminum welding.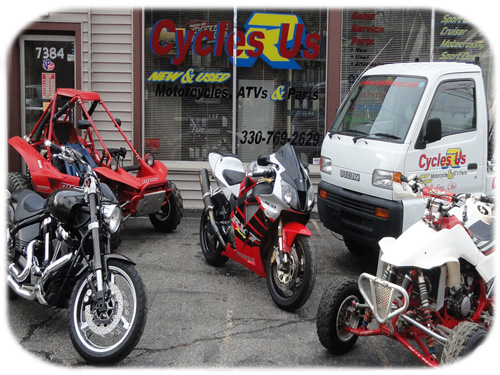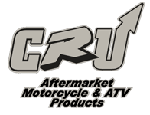 CRU Products specializes in high demand aftermarket replacement parts for the Motorcycle & ATV Industry. We pride ourselves in providing top quality aftermarket parts at a fraction of the oem or competition's cost. CRU Products was started by Cycles R Us in 2009. Cycles R Us has been in the salvage business for almost 20 years. Being in the salvage business, we not only see what parts are in a very high demand but what parts are in a very high demand that are costly at the dealership. Distributors & Dealers are welcome.
Testimonials
-Forrest Wells, Herdford Az

Hi Jon, thanks for everything I just received the last part an hour ago and if it where not raining I'd put it all together and see if I can make it go. I'll not forget the service you've provided and as I'm going to be buying for more bikes to rebuild I sure will look to your company for more parts in the future. Thank you so very much. Forrest
-Art Tanaka, Rosamond, Ca

I just wanted to send a note thanking you for finding the subject parts for me and for sending them promptly to me. Although the parts were for a 1986 350X, since they were a matched pair, they were perfectly usable on my 1985. We received the parts on Saturday, 25 April, and installed them "as is" Sunday morning. After running brake fluid through them and bleeding the system, we had great front brakes on the ATC!! We rode the ATC out in the desert all afternoon and the brakes worked perfectly!! I will pick up new brake pads for it this week, to finish the installation. Again, thank you very much; you did an outstanding job in satisfying my request!
Alexandro Las Vegas, NV

Purchased wrong carburetor for my ATV but the overall experience was excellent: delivered before expected, genuine oem part, prompt response, hassle free full refund, great customer service. Will definitely use in the future for all my cycle needs and would highly recommend based on my experience!